The Moreno Valley Safe Routes to School Program reached 11 schools focusing on education and encouragemnt.
Our proposal included education and encouragement components of the Safe Routes to School Pedestrian Facility Improvements program and added tremendous value and support for the infrastructure improvements that were recently completed. The program strives to engage students and families through development of safe pedestrian and bicycling habits, and encouraging use of newly created pedestrian and bicycle friendly improvements.
Walk 'n Rollers worked with Moreno Valley High School to develop a PSA, broguht education elements to seven elementary schools and planned a Walk & Roll Festival and Bike to School Days for the Spring of 2020.
Unfortunately, COVID-19 forced us to refocus our efforts from in person activities to online or contactless activities. We instead offered weekly activity calendars and community bike repair days.
Project timeline: August 2019 – July 2020
The Moreno Valley Safe Routes to School program includes fun activities for kids of all ages.
Free Bike Repair Day
Bring your bike to Moreno Valley Community Park and our bike technicians will be sure to get them up and rolling We'll check your inner tubes, tires, brakes, chains and cables. We'll replace/repair what we can and provide a checklist of what was done and (in some cases) what still needs to be done. (some repairs and services may not be available on-site).
What: FREE Bike Repair Day
When: Saturday, October 3, 2020
Where: Moreno Valley Community Park, 13380 Frederick St, Moreno Valley, CA 92553 MAP
Time: Drop off between 8:00 a.m. and 10:00 a.m.; Pickup from 4:00 p.m. – 6:00 p.m.
NOTE: Registrations for this event are currently full. To request a stand by reservation, please contact us to be added to our waiting list.
FREE GIFT for Moreno Valley Students!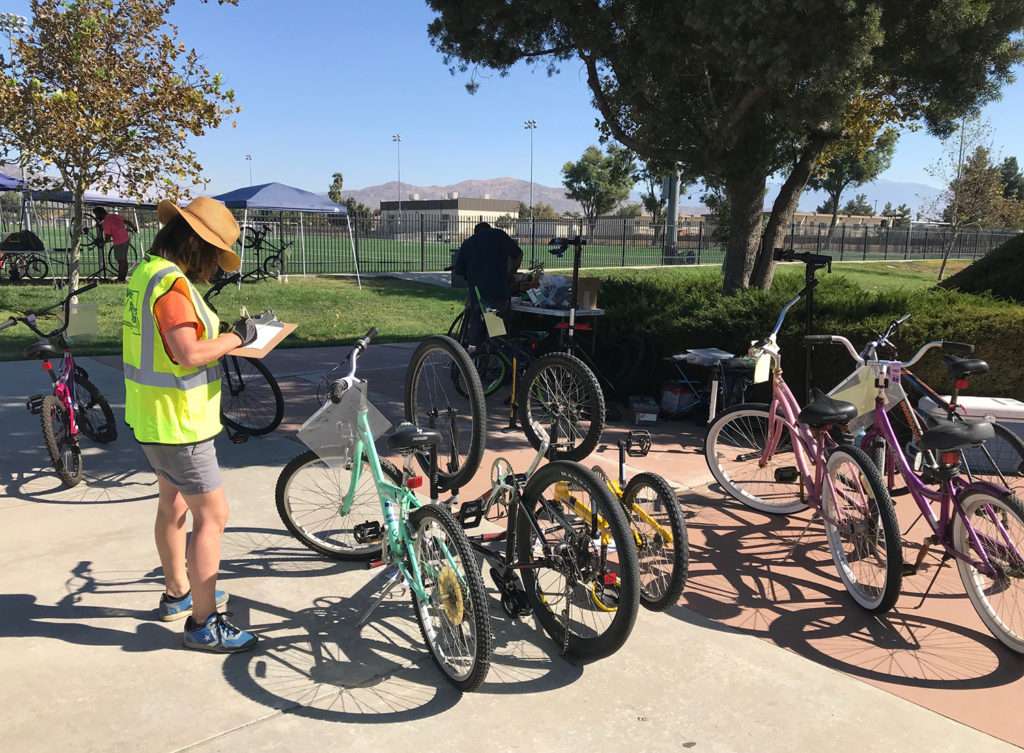 Click on each image below to download that week's activity packet. Each week features a new list of activities to keep you inspired to walk and bike around your neighborhood. Check off your progress on the checklist. Bring your checklists to the Bike Repair Day on October 3 and receive a free goody bag! Bike repair is not required to get a goody bag.
Active transportation is more than getting kids out of cars and reducing traffic and pollution at school sites. SRTS programming also teaches children life skills such as responsibility, good decision making, time management and traffic, and community awareness. We are excited about the opportunity to introduce these elements to the students and residents of Moreno Valley.
There are many elements involved with this program revolving around education and encouragement.
This program is funded through the ATP grant program. Visit Moreno Valley for more details.