STEP SAFE ROUTES TO SCHOOL PROGRAM
We are excited to be working with partners Alta Planning + Design and Latino Health Access on a 3 year Safe Routes to School program throughout Orange County. Walk 'n Rollers will be working with eight schools to develop safe walk and bike to school activities.
Our school list includes: Centralia Elementary (Anaheim), Pomona Elementary (Newport-Mesa), Melrose Elementary (Placentia/Yorba Linda), Newhope Elementary (Garden Grove), Ruby Drive Elementary (Placentia-Yorba Linda), Schmitt Elementary (Westminster), Wilson Elementary (Newport-Mesa Unified).
To date, we have held pedestrian safety assemblies at Newhope and Wilson, Bike Skills Workshops at Schmitt and Wilson, and assisted with Walk to School Days at Centralia, Wilson and Ruby Drive. We are excited to see how the schools continue the programs in the 2022-23 school year. 
If your school is interested in participating, please visit the OCTA STEP site.
Project Timeline: January 2020 – June 2023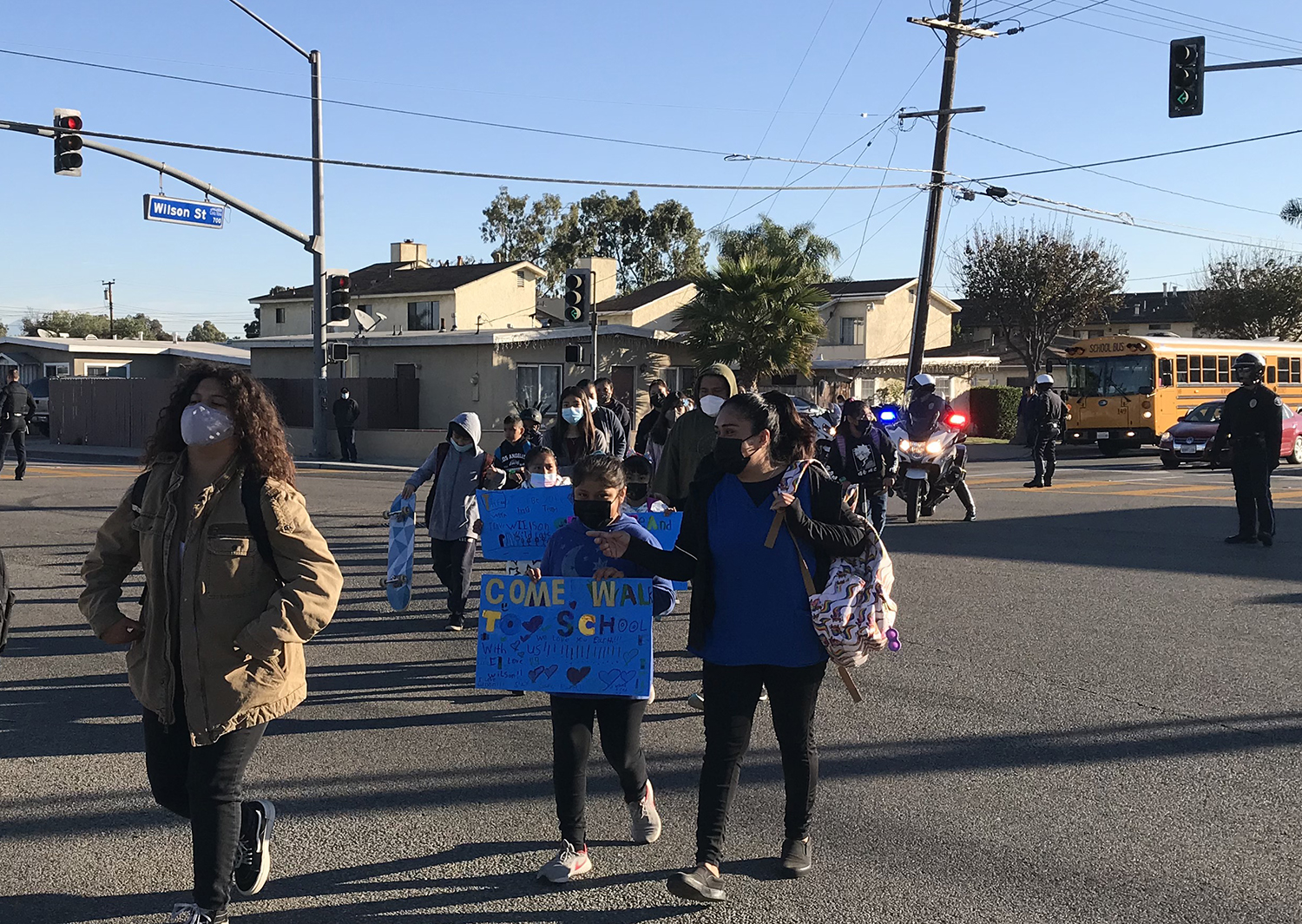 ---
---
2019
We were excited to work with the Orange County Transit Authority (OCTA) on Be Safe Be Seen – a county-wide initiative to prevent pedestrian and bicycle-related injuries.
Throughout the summer of 2019, we hosted a series of activities to help cyclists and pedestrians be safer and more visible in an effort to reducing collisions and injuries.
OC Bike Adventures Workshops Three levels of FREE safer cycling classes for adults aimed at helping cyclists become more confident, safer riders.
Operation Bright Lights These pop up events will be distributing lights and helmets to cyclists throughout Orange County.
Operation Be Seen Activities to distribute reflectors and safety info on buses throughout Orange County.
OC Bike Adventures featured a series of FREE bike skills classes to help you ride more safely and with more confidence. Three levels of classes for all riders was offered in cities throughout Orange County. Each was unique and included a fun ride to explore the communities. All students will received a new bicycle helmet and bike lights.
REGISTRATION IS NOW CLOSED FOR ALL CLASSES
Class Schedule (subject to change)
Level 1: OC Bike Adventures These 3-hour interactive classes include a classroom discussion, safety workshop, fun ride and lunch/snack at the ride destination. Level 1 classes are designed for the beginner rider who is looking to improve their bike handling skills and better understand the rules of the road and develop confidence in riding on streets. Topics covered include: Rules of the Road (Essential Vehicle Code topics); Safe Cycling (basic road safety skills); Proper starting and stopping technique, scanning and signaling; Helmet fitting; and a basic bike inspection to ensure your bike is ready to roll. Each class is made up of classroom discussion, essential bike skills workshop (flat repair, route planning, commute basics – what to wear, road etiquette and more). Note: This is not a Learn-to-Ride class. 
Level 2: Intermediate Safe Cycling Class Cyclists have more fun when they ride with skill and confidence. This all-day interactive class is designed to build confidence in riders and develop a comprehensive understanding of rules of the road and riding technique.  In addition to topics covered in Level 1 classes, you will also learn and practice safe cycling skills, emergency maneuvers and road etiquette. Each class includes classroom discussion, parking lot drills, a group ride monitored by instructors, classroom summary and lunch. Note: Safe Cycling Classes are  a pre-requisite for an LCI Seminar. 
Level 3: Advanced Skills – LCI Seminar A comprehensive weekend event to become certified as a League Cycling Instructors (LCI). The LCI Seminar focuses on teaching and demonstration techniques used with future students both on the road and in the classroom. The seminar emphasis is on how to teach bicycle safety and skills so as to provide increased comfort and confidence for new and returning bicyclists and youth. The seminar does not emphasize the content or specific details of the cycling course curricula. It is primarily about teaching, and each candidate will have opportunities during the seminar to practice facilitating parts of the Smart Cycling curriculum, both in the classroom and in the parking lot. Generally, 1/3 of the time is on-bike, so students should be prepared to ride. Note: Completion of a Safe Cycling class is required.
Level 1 OC Bike Adventures (Dates and location subject to change)
July 20: La Habra
Workshop: Flat Fix
9:00 am – 12:00 pm
La Habra City Hall, 110 E. La Habra Blvd., La Habra 90631
July 25: Orange
This class will be available in Spanish and English
Workshop: Flat Fix
5:30 pm – 8:30 pm
Orange Civic Center, 300 E. Chapman Ave., 92866
August 3: Fullerton
Workshop: Emergency Skills
10:00 am – 1:00 pm
Fullerton Library, 353 W. Commonwealth Ave., 92832
August 13: Huntington Beach
Workshop: Commuting & Route Planning
5:30 pm – 8:30 PM
Huntington Beach City Hall, 2000 Main St., Huntington Beach 92648
August 31: Tustin
Workshop: Women on Bikes (this class will be taught by women, for women)
9:00 am – 12:00 pm
Senior Center, 200 S C Street, Tustin 92780
Level 2 Safe Cycling Classes
August 24: Fullerton
9:00 am – 4:00 pm 
Jax Bicycle Center, 2520 E Chapman Ave., Fullerton 92831
September 7: San Clemente (This class will be available in Spanish and English)
 9:00 am – 4:00 pm
Vista Hermosa Sport Park, 987 Avenida Vista Hermosa, San Clemente 92673

Level 3 LCI Seminar Completion of Safe Cycling is required.
(Dates and location subject to change.)
September 20-22: UC Irvine
Class Information
Students must be 18 years or older (students ages 14-17 may attend if accompanied by an adult)
Students should bring a bike in good working order and be able to ride up to two miles.
Students should bring water and snacks
Classes will begin promptly as scheduled.
Waivers are required to attend all classes. Download a waiver HERE