Riding your bike and walking to school is more than great exercise, it's an inexpensive way to commute and a wonderful family activity. By following a few simple guidelines, cycling and walking can be fun and safe for everyone.
Watch our Safe Travels YouTube Series and learn about PEDESTRIAN SAFETY, HELMET SAFETY, ABC QUICK CHECK and BIKE CHAIN MAINTENANCE.
More quick Links
Lock it or Lose it, bike locking tips
Helmet Fitting and Safety tips
ABC Quick Check tips
Essential Bike Safety tips
COVID-19 Safer At Home Tips
Safer at home does not mean you can't get out and walk or bike! Getting out of the house will help you mentally as well as physically. How do you stay safe when you're out walking? Here are a few tips.
Practice good physical distancing. Stay away from crowded locations whether they are designated for walking or not, and if you stop to chat, maintain 6 feet of separation from others.
Walk in small groups with people and pets you know, or go out on your own.
Don't push traffic signal buttons with your fingers, wear a glove or use an elbow or even your knuckle.
Wash your hands thoroughly when you get home, and leave your shoes by the door.
Avoid touching your face when you are out.
Be extra aware of your surroundings.
Even with fewer cars, be sure to cross at corners and look 4 ways before crossing
Be aware that there is less traffic and drivers are taking advantage and speeding.
Be friendly and kind! We are all in this together.
Taking 3 simple steps will help us stay safe. Visit: covidhelpLA.org to learn more.
Stick to the basics: Continue wearing masks and avoid crowds and confined spaces.
Stick to the household for the holidays: Limit your holiday in-person celebrations to JUST your household. Missing friends and family? Host an online gathering with friends and family via WhatsApp or Facetime.
Get a Flu shot: Now more than ever, it's important to get your flu shot. Flu shots are safe and getting your flu shot is the best way to protect you and your family from getting the flu. Remember, you can get the flu and COVID at the same time. To get a flu shot, contact your doctor first. If you do not have a doctor call 211.
The key to successful programs is providing sufficient education and encouragement programs and materials.
Below are 11 Steps to Safer Walking and Riding tips every parent should review with their kids. (click on the image below to download)
For parents, we offer out this Smart Tips to Safe Pedestrians tip sheet in English or Spanish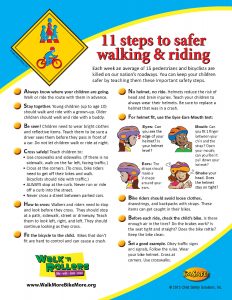 BE SAFE
Before you use your feet
To cross the street
Be sure to stop and look and listen
And then repeat