Streets of Gold
October 26, 2019 @ 9:00 am

-

4:00 pm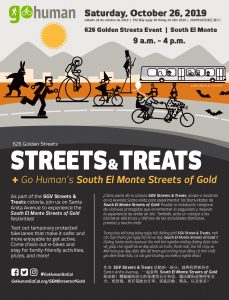 Join us for an all day event as part of the South El Monte Streets of Gold demonstration project
Check out protected bike lanes and other new street improvement
FREE Kids Bike Skills Course
FREE Bike Repair
FREE Kids Bike Helmets (while supplies last)
Group Rides
Group Walks
Tech Workshops
Current Event Schedule
9:30

Walk #1

10:00

Ride #1

10:30

Walk #2

11:00

Ride #2 + Trike Derby

11:00

Tech Workshop #1 – Fixing a flat

11:30

Walk #3

12:00

Ride #3

12:30

Walk #4

1:00

Ride #4 + Kids Bike Parade

1:30

Walk #5

2:00

Ride #5

2:00

Tech workshop #2 – Bike Tech 101

2:30 Walk #6
3:00 Ride #6
Enter to Win!
2 chances to Win!
Snap a selfie with your coloring page along the route
Snap a pic of your spooky bike and/or helmet at our Creation Station
Post with: #SouthElMonteStreetsOfGold for your chance to win!
Also, when riding through the route, be sure to count the skulls in the street for a second chance to win (see above for sample)!
See you there and good luck!